TRANSCRIPTS | SWAMIJI RECORDED
Audio Recordings and Transcripts of conversations with Shivabalayogi
Photographs and Video, free downloads of Bhajan Recordings
Shivabalayogi chants Om Namah Shivaya
SHIVABALAYOGI RECORDED:
Audio Recordings of Conversations
Shivabalayogi engaged in conversations with devotees
on a wide variety of subjects.
AUDIO EXCERPTS
by subject matter taken from
various different recordings.
Each is a short audio file in WMA format
and can be downloaded.
TRANSCRIPTS
of Conversations with Shivabalayogi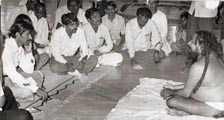 Transcripts of complete recorded conversations with Shivabalayogi
can be downloaded from the TRANSCRIPTS page.
Each document is in PDF format.
BHAJANS
Live and Studio Recordings
Free bhajan downloads and text, at the
BHAJAN HOME PAGE.

Shivabalayogi chants
Om Namah Shivaya
108 Names of Shivabalayogi | Sanskrit Chants

Live bhajans recorded at Shivabalayogi ashrams in
Adivarapupeta | Bangalore | Dehradun
Studio Recorded Bhajans
Bhajan Bhakti (Four CD Collections)
Azul's Om Shiva | Om Guru Sharanam

Go to the
LIBRARY PAGE
Read and Free Downloads
Complete Biographies of Shivabalayogi
1962 (A Brief Sketch)
1968 (Sri Shivabalayogi) and
1981 (Spiritual Ministration)
Booklets and pamphlets on Shivabalayogi
Articles on Shivabalayogi
For photographs of Shivabalayogi,
please visit the main PHOTO page to access galleries.
Tapas Photos | India Photos | In the West
Light Body Photos | Studio Photos

An archive of INVITATIONS to Shivabalayogi functions.
Adivarapupeta | International Trust | Jhansi
Bangalore to 1994 | Bangalore | Other
Over fifty video programs of Shivabalayogi
can be accessed easily through the
SHIVABALAYOGI ONLINE VIDEO PAGE
Edited Programs
Shivabalayogi an Introduction | Shivabalayogi Blesses Waters
Bhava Samadhi: Divine Play, Spiritual Ecstasy
Shivabalayogi Historical
Adivarapupeta 1963 | Early Films | One Year Tapas
Ashrams and Programs
JP Nagar Bangalore | Anantapur | Dehradun | Agra | Italy 1989
On the Light Side
The Inspector | Cooking Pullao | Kakinada Sea Bath | Swamiji Singing
Interviews
New Age Forum | Jesus, Yogis & Spiritual Leaders
There are twelve
DVD programs
available for purchase.