A Brief Sketch
of Sri Siva Balayogiji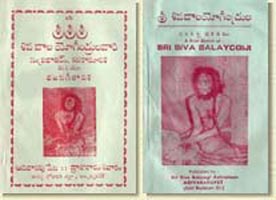 A Brief Sketch of Sri Siva Balayogiji is a Telugu and English booklet published by the Adivarapupeta ashram committee on the occasion of Shivabalayogi's birthday
on January 24, 1962.
The English text and photo captions are printed here
together with the original photos from the booklet.
DEEP GRATITUDE
We are indebted to all people who secured us photos connected to the holy life of Siva yogiji and also helped us in securing information and in this work of editing.
But for the generous gesture of beloved devotee of Yogi Samrat, Sri Kotipalli Sathyanarayana Rao, Prop., Sree Krishna Printing Press for making available his entire press for this publication work since a few days, it would have been impossible to bring out this book on this Sacred day.
Our deep gratitude to these important devotees for their great services:
Messrs. R. K. Das, M.A.,
M. G. Kabbe,
Ravula Suryanarayana Murty, B.A., B.Ed.,
D. V. Prasada Rao, B.A.,
M. Narsimham, Bullabbai, B.Sc., B.L.
G. Ayyappa, foreman, Sree Krishna Printing Press
V. Gangadhara Rao
Rumale Channa Basavaiah, For Publishers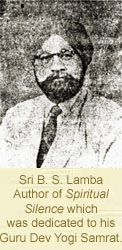 All Recent Photos of Yogiji is taken by:
Rajeswara Rao, Bhaskara Photo Studio, near Lakshmi Talkies, Kakinada (A.P.).
All Blocks Prepared By:
M/s Venkateswara Process Works, Zanda Panza Road, Rajahmundry.
A SAY TO THE READERS
We are moving in a time of speed. The evil forces have already geared up to race with the speed or time. If the Good forces are not mobilized to counteract he evil forces, it will result in the domination of the latter and allow the evil forces to perpetuate the evils. In the atomic age the dark clouds have enveloped the whole world and the civilized world is living in a dread of destruction. No weapon on earth can ever he discovered to counter this lightening atomic weapons because of its speed. But only one force is left that can destroy even this and save humanity from this and that is the Shakti of the Lord, which will be released at the appropriate time by Bala Shivayogi.
The divine forces are already at work through the people. It is to create a link between the Spiritual power of Shivayogi and the people that this publication is being brought out on 27th birth day on 24th of January 1962.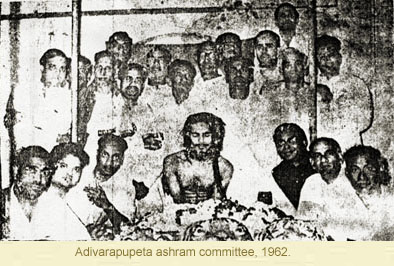 The readers are welcome to bring to the notice of the Ashram any shortcomings in this publication. We feel proud to express our deep gratitude to all those who assisted and actively cooperated to bring out this book to cope-up [sic] with the speed of time.
Garega Narasimha Murty
T. V. Sathyanarayana Rao
Rumale Chennabasavaiah
for ashram devotees
January 24, 1962, Wednesday
BRIEF LIFE OF SHRI BALASHIVAYOGIJI
Sathiraju is the name of Balashivayogi before the commencement of the penance. Sathiraju was born in Devanga community of Hindu Religion on Thursday the 24th January 1935 at 2:45 PM. He was very poor and studied only up to IVth primary class and his father passed away when he was a child of 2 years. When Sathiraju was a boy of 14 years and 5 months, Lord Shiva appeared in the form of Guru and initiated him to commence penance. Sathiraju immediately became Sri Sri Sri Balasivayogiji and completed the penance for 12 years. During this period yogiji was taking only a little milk as his food. At one time during this period of 12 years, he denounced even milk for one year and four months and again a second time for 5 months. During tapas period he was bitten 7 times by cobras, rats and reptiles and took no medical treatment any time. Shivayogiji completed the penance on August 8, 1961 [sic] and gave message of peace to humanity.
(Parents had Shiva-Linga-Deeksha ten years before Satya Raja is born)
"Today human mind is in a state of dangerous trend. Whether the spaceman and the Sputnik will conquer the Sun and then make the entire world dark for ever?"
"Our scientists say it is possible; the Sun can be conquered."
"If Sun will be conquered, 'What will happen to the world?' is the immediate worry of the human being."
"One go to the Sun and come back with life is my experience in the samadhi."
"I challenge to the entire humanity that no man can conquer the Sun."
"If man wants peace to himself he can reach the Sun and come back to the world again. And to do that, is possible only when he will think who 'he' is and realise it himself what he should do to find out whether his body is 'his'."
"There lies the solution of the world peace."
ABOUT BHRUGUNADI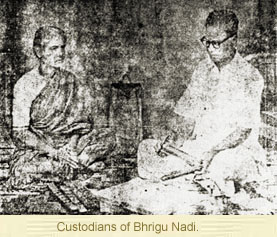 Well known astrologer late Sri. V. S. N. Sarma (4/41A; Innispet Rajahmundry, Andhra State, India) was in position of Bhrugu Nadi, written on palmyra leaves, language is Sanskrit, and the script is Telugu. Sree Iyyala Somayajula Subba Rao and his sister Sreemati Subbalakshmmamma the widow of late Mr. Sarma are in possession of the Bhrugunadi Nadi granthas. Bhrugunadi is an eye opener to those who cannot see beyond their physical eyes.
What Deva Rishi Sree Bhrugu saw in dhyana ages back is recorded in Bhrugu-Nadi. The predictions of the Nadi regarding Sree Shivayogiji life is true even in the minute details.
By chance it was possible to secure the Nadi reading of Shivayogiji only three months back.
EXTRACTS OF BHRUGUNADI - SRI SIVAYOGIJI'S LIFE
The life of this great maharishi has been vividly described by Brugu Maharishi and disclosed in the Brugu Nadi through Sanskrit Slokas, the English translation of a few of which is rendered with devotion by Mr. M. Narasimham, Agent Bank of Baroda, Kakinada who is one of the disciples of the Maharishi.
Bala Siva Yogi will achieve fame with an exemplary character, with longevity and with a power of introspection and a spiritual conquest of others. He will be a great worshipper of God and makes a sacrifice of his life for yoga. Tender in mind, glowing with softness at heart, thoughtful of father and parentage but devoid of inheritance of property, ready to face pleasures and sorrows with equal faith, and by the grace of karma in the past birth is born in a family which stands for prestige and honour.
At the infant age, he will be very quarrelsome extremely short tempered, nevertheless affectionate, and will be prone to be hard. He will be leading a life of ignorance and becomes the victim of blame. He is born with a number of brothers after him, with the care of two mothers on account of the early loss of his father which feckles [sic] his mind, but stabilized later by the Mothers presence. He is born to reap the benefits of the past birth in this life that would make him develop an unexpected strength of mind to dedicate himself to a life of undisturbed worship with extreme concentration.
He had no education but becomes a learned adult. The craving for desires transforms into a relinquishment of them. He abandons all worldly pleasures. He enjoys longevity and attracts the worship of the people; gets the power of hidden knowledge, unknown to human life, and by virtue of relentless concentration acquires the art of worship of Anjaneya and his achievement eventually. Devoted to the ardent adherence to the daily ablutions of penance and worship he not only becomes the source of admiration and praise by humanity he attains the power of Brahma Vidya and such other acquisitions incapable of achievement even for the most righteous men.
In his infancy this boy was given for adoption by his father to his step mother. He had all the comforts till the end of his Ravi Maha Dasa when he was under the protection of his father. Afterwards Chandra Maha Dasa (in the sub-period of Rahu) caused his father's death. Thereafter, according to his father's promise, he was brought up by his step mother to whom be was given for adoption, and so got estranged from his parental ties. He could not tolerate the unscrupulous measures adopted by his step mother and her relatives to earn money which tantamounted to cheating the government and the people and conducted a tirade against those guilty of such measures to hold them in fear of him thereby becoming himself a victim of blame by his mother and her kith and kin consequently he lost the affection of his step-mother and had to estrange himself from her eventually. At the time of the estrangement he perceives tears trickling from his step mother's eyes, which melt his heart and after seeking forgiveness he rejoins his mother to make her happy of his return to her, and become the source of happiness to his mother.
Instead of sitting idle he starts a small business to become an earning member. At the age of eleven, he brings respect for his family by his earning capacity at such an young age, besides enjoying the affection of his grandfather and mother. He would even put by his savings steadily and surrender the entire savings to his mother thereby derive the benefit of his mother's love and affection for him. He would consider his mother as Goddess and worship her as Goddess instead of as a mother worship. The worship of mother in other words transforms itself as worship of Goddess. By the good acts in the previous birth, or in the earlier life, he would assume leadership for any devotional cause. In this fashion the boy's life ran parallel with knowledge and ignorance simultaneously.
Engrossed with rapt meditation by the favour of Iswara, be commences a yogic life from his 15th year. But the citizens of the village and his friends seeing his undisturbed and concentrated meditation, make a malicious propaganda that the boy is overtaken by evil forces and subject him to torture, beating and burning his body and such things that a physical body cannot withstand and the Yogi finding impossible to prosecute his penance leaves the place for another but even there another hypocrite masquerading in the name of yogi troubles him. The boy returns to his village and at a ravi tree gets lost in his meditation.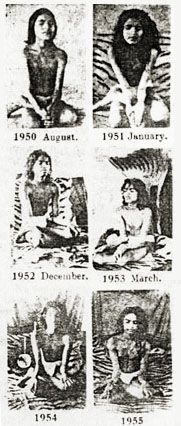 The mother unable to bear the pangs of the sufferings of her son and overcome with sorrow entreats him to relinquish his penance and revert to the family life and bold its prestige as usual. The boy who was in deep penance replies, "Mother, do not cast a doubt. This is a greater life. Iswara himself will do everything and set light. Do not entertain fear." More grieved on hearing the boy's reply, the mother's sorrow doubles itself and redoubles her fear of what troubles are in store for her innocent son and was on her nerves. To alleviate the mother's pangs end feelings, the three Maheswarams appear before her and console her. Since then the three Maheswarams make their appearance off and on until she completely abandons her fear and peace restored in her mind to avoid her interference and promote the undisturbed meditation of her son.
This Siva Balayogi, who is a natural descendent of the Suka generation takes the pattern of the traditions and the merciful. Lord Sankara appears to him in the shape of a yogi in a fruit, which the Siva Bala Yogi sees when be opens it with a thrilling and resounding Divine-voice. This Jyotirlingam that appears in the fruit teaches him the method of penance. Lord Siva delegates to the yogi the task of protecting the peace of the world and leaves him after endowing the Balayogi the requisite powers and prowess to discharge his function. This living shape of Lord Siva becomes identified with the Divine Siva by process and is no other than Siva the incarnation. He devotes his great meditation to the welfare of the world.
To see the entire universe, to take a holy bath in all the shrines, to acquire proficiency in every field of knowledge, and to relinquish all desires are child's play to him. This boy is God's messenger to propagate the message of Ishwara for world peace. Ishwara has given him the power of tapas as a means to protect the world. Lord Shankara himself will perform and fulfill several functions at the word of this boy yogi.
In previous births and also in each birth, this boy converted staunch atheists into devotees. In some births he was a great yogi, and in some other births as a great warrior to ruin those who proclaimed no faith in God. Such were the abilities and functions this boy performed in all his previous births. It was in this fashion that this boy with full fame took birth as avatars for world peace and by the will of ishwara, he has taken a new birth in a few shape. The most illustrious names known in his previous births are Shri Suka, Deva Datta, Agni datta, Gunakara, Suryasimha, Mahadev, Shivadev, Gyaneswara, Tulsidas, Kabir, Rajabhushana, Namadev, Mahadev, Jayachandra, Mahabala, Nityananda, Bhavananda, Shri Chandra Valuripathi, Parameswara Prasad, Ramasasti, Arjuna, Shiva, Gadadhara, Phani Mohana, Satyarajans Ramakrishna Paramahansa, all of whom were devotional and attained international fame for their saintly character.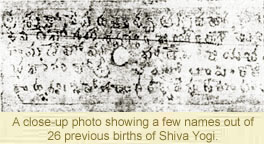 When he was in his seventeenth year, a very great sage was struck by the powers of concentration of the lad end in spite of himself being a great yogi was stunned at the powerful penance the lad was making and instantly prostrates before him. He takes immediately keen interest to complete the construction of the ashram undertaken by his devotees and left unfinished so as to ensure that it has no evil effects in construction and completes erection of the tower by personal supervision. He then declares his own prowess and power to the people at the ashram as one who has undergone the severe kaya kalpa treatment of rejuvenating old and with nothing else to give to the young yogin gifts his knowledge and in turn seeks knowledge from him in exchange. By the grace of Iswara the great sage, known as Tapasvi Maharaj, is attracted to the deep meditative capacity of the boy, and imparts to him the worship and upasana of Sun by which he Sri Siva Bala Yogi be travels to the domain of the Sun successfully.
At the critical period when the deadly forces of destruction get released that would endanger the survival of humanity in the East, and envelope and entangle the whole East in an unprecedented calamity, the Bala Sivayogi spies the deluge before the mankind for whose protection all alone he has been in penance, counters the force with his own gigantic force and nullifies the effect of the evil forces to save the humanity from annihilation particularly the righteous. He also safeguards all shrines from getting enveloped by war clouds swara himself partakes in punishing those guilty of setting the evil forces through the Siva Balayogi.
The complete Nadi Reading given in Brigu Nadi extracts of which are given here will be published shortly.
KRISHNA-KUND
(A tank near ashram by name Krishnakund for which Sri Meka Chanda Sekhara Rao took the initiative and constructed by the help of several devotees.)
TWO RECENT MANIFESTATIONS
It will be interesting to the readers to learn the manifestations of Bala Shivayogi in various forms a few of which are narrated here under.
Recently an ardent devotee in the course of his dhyana had a strange sight of some written matter on a black board. Gradually he was able to memorize the matter that he was seeing in dhyana and narrate it to yogi samrat. His friends who were by his side immediately took down the readings, which is nothing else but the gospel of the Lord Shivayogi. All such messages are appropriate in the present context of the world. The aforementioned devotee bas been getting such readings every time in long spells of meditation ranging from 45 minutes to 6 hrs. at a stretch in the presence of Shiva Balayogi.
Four of such are reproduced here out of 108 readings.
(1) It is the primary duty of a man to find out who he is.
(2) God has given mind to think brain to learn and body to act. A man who uses all this for self realization remains always happy.
(3) If a man experiences and realizes that dhyana is the food and medicine for his real mind, it is the beginning of real happiness.
(4) No man should limit his thoughts about himself instead of pointing out other mistakes. That is the way of real happiness.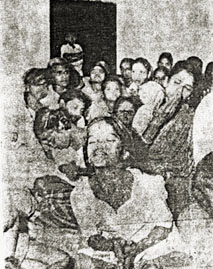 In another manifestation the yogi is seen acting directly on his devotees whose age is generally found to range between 8 to 16 irrespective of sex.
The first instance notices was when Kumari Erramma of Adivarapupeta hundred yards away from the ashram went into trance when a bhajan was in progress. From the next day the supernatural force began acting through her. She was found vibrating to the tune of music and showing gestures like the yogi himself and her thejas was apparent in her countenance. Gradually this manifestation began to appear on 5 to 6 devotees at a time, but not in the same fashion as each one of them was seen reacting in different ways to the tune of the bhajan. One will be waving the hands the other dancing the third singing and on. It is a divine sight and the play of the astral body of the mahatma on his devotees.
The yogi appears to have picked up specially Sree Shankaram of Ramachandrapuram aged about 35 on whose physical body manifested himself on number of Fridays; Friday being bhajan day. He would generally dominate as a central figure would bless the audience, guide them and also narrate good and bad deeds of some of them and expose those who are guilty of misdeeds. He is also initiating some into the process of meditation. The conclusion is that the yogi is using the medium of his devotees to teach the principles and practice of dhyana. On recent instance he reacted simultaneously on 38 devotees.
Who knows how many will be enveloped by his power. It can spread to millions.
SRI TAPASVIJI MAHARAJ
Born in a royal family; lived for 187 years. Denounced worldly and became a sannyasin immediately after an audience with last Moghul Emperor at the age of 55. Attained mastery in yoga kriyas at Rishikesh bank of Ganges. Underwent kaya kalpa rejuvenation treatment, on ayurvedic cum yogic treatment first, in 90th year and regained youth. Later on had kalpa treatment twice. Performed great penances as khadeswari for twenty years in which he should be standing or walking, should not sit, with left hand lifted straight upwards in Burma and Assam jungles. Performed most severe penance of five fires for 12 years in Mathura District, U.P. Denounced the physical body at his wish through yoga-kriya at Jhansi city on 12th October 1955 at 5:30 PM.
Tapaswiji first met Shiva Balayogi during January 1950 when Balayogi was in meditation. Sivayogiji was then only 16 years. Thapaswiji Maharaj declared in public meetings at Kakinada city (Andhra State) and in several places that Shiva Balayogi is the incarnated power of Lord Shiva, also revealed that Sri Chanra Maharaj who is the founder of the Udasi sadhu cult also gurudau of Tapaswiji in previous birth — has now taken birth as Bala Shivayogiji.
The name of Sri Chandra is also found recently in Bhrugunadi, one amongst 26 previous lives of Shivayogi.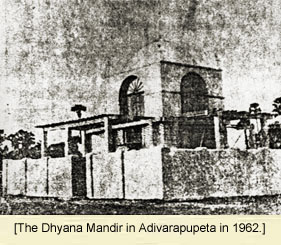 Devotees who offered
TIGERSKIN
To Sree Shivayogiji during 12 years of penance
[Most sacred asana for a yogini or a tapaswi during penance period is the skin of a tiger. We are gratitude to these devotees who secured the tiger skin when Sri Sri Sri Shivayogiji performed great penance facing East, North, West, and South again facing East.]
Sreejets D. Balasundaram Pillai; G. Narasimha Murthy; Ravula Satyam; T. V. Satyanarayana Rao (twice), devotees of Sri Tapaswiji Maharaj; and through Sree Narayandasji (disciple of Tapaswiji Maharaj).
YOGI SRI PITCHAIAH
Since two months an ardent devotee of Shiva yogiji, Sri Pitchaiah has become a yogi and started doing penance in Guntur city (Andra State). Sri Sri Sri Pitchaiah is a bachelor aged about thirty years. Shivayogiji is sending the holy tiger skin on which His Holiness gave darshan after 12 years of penance and also delivered world peace message, to Sri Sri Sri Pitchaiah to use as asana while continuing the penance.
We request our inability to publish the photo of the new yogi in this book.
An Appeal to Readers:
The report that is published below is of a very recent event. Unless readers are experienced or possess faith in the action of spirits working through others' physical bodies, it is very difficult for them to understand about occult powers. We request such people to attend bhajans that is going on Friday nights in the ashram premises where they can see the power of Shivayogiji works on number of people.
SHIVABALAYOGIJI OFFERS BLOOD
To quench the thirst of spirit "Rakta-Kali:
Subjugation of powers of spirit "Rakta-kali" by the spirit of Lord Shiva, through Shivayogiji.
A Brief Report
Spirit of Goddess of destruction known as Rakta-Kali (Blood-Thirst Goddess Kali) figured on a woman of Adivarapupeta by named Chitamma who aged twenty rushed to Sri Shivayogiji at 10 P.M. on Friday, 19th January, 1962. Good number of devotees were fully engaged in bhajan outside of Dhyana Mandir.
Wife of Lord Shiva — i.e., Goddess Parvati manifested herself as "Kali" to kill a great demon is also known as Adishakti the mother of the universe. Kakta-Kali is the fierceful form of Goddess Kali who is blood-thirsty is always identified as Goddess of war.
Very in eating [sic] conversation took place between the spirit Rakta-Kali and Shivayogiji. It became quite evident to the people who were present that the spirit of Lord Shiva was working through Shivayogiji. Shivayogiji requested the spirit Rakta-Kali not to trouble the people because he can give as much blood as Kali wants to quench her blood thirst. Then the spirit pounced on Shivayogiji and began chewing the left palm of Yogiji and sucking blood. Shivayogiji was smiling and enjoying the conversation with Kali while the spirit was engaged in sucking his blood. The devotees who were present were shedding tears.
Rakta-Kali after quenching her blood thirst through Shivayogiji's blood for more than three hours finally accepted a defeat surrendered all powers to the spirit of Lord Shiva which worked through Shivayogiji.
The following people were eye witnesses to this incident: Srijits Chellikani Dharma Rao, Bikkani Ventaratnam (village munsif of Chodavaram) Hindi Teacher, Bikkini Sree Ramamurthy, Allamraju Sathyanarayana Rao, K. Kameswara Rao, and Kalakanda Subba Rao the father of Sreemati Chittamma.