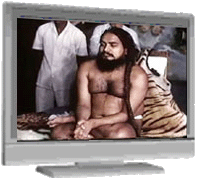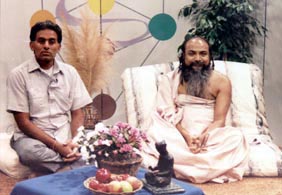 Interviews
New Age Forum, 1989 Shivabalayogi is interviewed by Charles Whitt in this 1989 Santa Barbara cable television program, "New Age Forum". Two edits, On Meditation and On Guru, are taken from that interview.
Cambridge (Boston), Massachusetts, 1989. Shivabalayogi answers questions about meditation, world conditions, and the death experience.
Synergy TV Interview, Seattle, 1990 Shivabalayogi describes his own tapas (twelve-year meditation in samadhi) in this television program interview by Charlene Ryan, Seattle, June 25, 1990.
Jesus Yogis & Spiritual Leaders, 1991 Shivabalayogi answers questions from a conversation video taped at the home of Dr. Ram in Las Vegas on April 16, 1991. Subjects in nine edits include meditation, tapas, end times & Jesus' second coming, spiritual leaders, religion & the Pope, avatars, spirituality & drugs.
Bangalore Darshan Interview, 1994 Excerpt from video recorded on February 6, 1994, in Swamiji's darshan room at the Bangalore ashram. Shivabalayogi explains why different yogis emphasize different paths, how Ramakrishna attained samadhi (enlightenment) through his guru, Totapuri, and how Ramana Maharshi's emphasis on self-inquiry is the purpose of meditation.
Bangalore Hall Interview, 1994 Recorded February 17, 1994, in the meditation hall of the main Bangalore ashram. Devotees from France ask Shivabalayogi questions about end times, finding the guru, and spiritual practices.
New York, 1990 Shivabalayogi is interviewed by Jack Lenchner in this excerpt from a New York video. Swamiji demystifies the origins of Guru Purnima, the annual full moon day that is the occasion for celebrating the guru, and Mahashivaratri, the annual great night of Shiva, which falls on a moonless night.
In the West
Shivabalayogi in New England
Programs. Video taken in 1990 during Swamiji's programs over the course of a week.
A Walk and a Talk in the Park. Conversations with Shivabalayogi recorded in the Arnold Arboretum, Boston, in 1990. Subjects include: meditation; the manifestations of Shiva, Jesus, and other yogis; astral bodies; and how yogis work together to serve people.
Shivabalayogi in New England Waters. Swamiji and devotees take a dip in the waters off of New England.
Cambridge (Boston), Massachusetts, 1989 Conversation. Shivabalayogi answers questions about meditation, world conditions, and the death experience.
Edited Programs
Shivabalayogi an Introduction is shown in two videos, one on his tapas and the other on his mission.
Sacred Images, shown in two parts, shows many photographs taken of Shivabalayogi during the early years after he completed tapas on August 7 of 1961.
Shivabalayogi Blesses Waters This video program collects photos, film, and videotape of Shri Swamiji blessing and bathing in oceans, lakes and rivers, including the Ganges River, the ocean at Kakinada, and at New England in the United States.
Bhava Samadhi, Divine Play, Spiritual Ecstasy This program collects film and videotape of bhava samadhi taken from 1963 to 1987 in Adivarapupeta, Bangalore, Madras, Anantapur, Sambhar Lake, Dehradun, and Farrukhabad in India.
Shivabalayogi on Shivalingas Shivabalayogi talks about Shivalingas in this conversation with devotees recorded in Portland, Oregon, on May 19, 1990. The audio recording is accompanied by photos of Swamiji taken in the United States.
On the Light Side
The Inspector Swamiji plays the role of a police inspector.
Cooking Pullao 1994 Shri Swamiji cooking pullao.
Swamiji Bathing 1982, 1986 & 1994 Swamiji bathing with devotees in the Ganges River, in the Bay of Bengal near Kakinada, and again near Kakinada two weeks before his mahasamadhi.
Badrinath 1986 Shivabalayogi takes devotees to Badrinath in the Himalayas where they enjoy throwing snowballs.
Shivabalayogi in New England Waters. Swamiji and devotees take a dip in the waters off of New England.
Adivarapupeta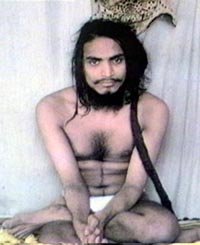 Adivarapupeta 1963. These are the earliest videos we have of Shivabalayogi. They are from two color films, each about eight minutes, taken in March of 1963, less than two years after he completed his twelve-year tapas.
Adivarapupeta, January 1984 (Shiva Weds Parvati). Three edited programs from video recorded during Mahashivaratri in Adivarapupeta, January of 1984: The ritual wedding of Shiva and Parvati; darshan and bhajans on Mahashivaratri; and Shivabalayogi with devotees at the ashram.
Mahashivaratri, Adivarapupeta March 1985. Three programs from video taken in Adivarapupeta in March of 1985: Shivabalayogi does puja in the Dhyana Mandir; darshan with devotees; visiting three homes of devotees and a pada puja in each, all in one day.
Mahashivaratri, Adivarapupeta, March 1986. Four programs from Adivarapupeta in March of 1986: Swamiji does puja in the Dhyana Mandir; darshan in the ashram building; Mahashivaratri darshan, bhajans and bhava samadhi; and homa (yagna)
Adivarapupeta Village Video of Adivarapupeta village and ashram recorded in 1994 shows villagers weaving cloth, and children swimming in the Godavari canal, just like Swamiji did when he was a boy. Also shown are the place by the canal where Shivabalayogi was initiated into tapas, and the meditation temple (Dhyana Mandir) where he sat for almost ten of his twelve-year meditation.
Return to Adivarapupeta Shivabalayogi travels by train to Kakinada, then is greeted by villagers in his native village. March 9 of 1994. He has returned to Adivarapupeta for the last time.
Mahashivaratri Each year, Shivabalayogi returned to Adivarapupeta for Mahashivaratri, the "Great Night of Shiva." These shots were taken on Mahashivaratri day, March 11 of 1994. Scenes include the homa, puja in the temple, as the mass feeding.
Kakinada Sea Bath Shivabalayogi and devotees bathe in the ocean near Kakinada on March 13, 1994.
Shivabalayogi Weavers Society March 15, Swamiji returned to Adivarapupeta and consecrated the foundation of a new office and warehouse building for the Shivabalayogi Weavers Society, a cooperative of weavers.
Tiffin in Kakinada Shivabalayogi is hosted at a devotee's house in Kakinada for tiffin (lunch).
Godavari River Bath On March 16, 1994, Shivabalayogi arranged for devotees to go bathing with him in the Godavari River.
Mahasamadhi On March 19, Swamiji consecrated the foundation for a new temple at the Adivarapupeta ashram that would replace the Dhyana Mandir (meditation temple) in which he had sat for ten of his twelve years of tapas. On March 28, 1994, Shivabalayogi entered mahasamadhi, the great or final samadhi in which a yogi sheds the physical form. The scenes in this video include the burial of his body inside what was the Adivarapupeta ashram building and now is the Samadhi, his tomb.
Bangalore
Bangalore Ashram, Bannerghatta Road 1960's & 1968. The original Bangalore ashram is located on Bannerghatta Road. Videos include an early 8mm film taken in the mid 1960's, and three clips taken on August 7, 1968, when Shivabalayogi completed a one-year tapas for world peace and a crowd numbering in the tens of thousands gathered to receive his darshan.
One Year Tapas. Video taken on August 7, 1969, when Shivabalayogi emerged from one-year tapas for world peace. Experience from that day can be read HERE.
Bangalore Ashram, JP Nagar 1977. Shivabalayogi's largest ashram is located in J.P. Nagar, Bangalore. Two videos are from black and white film taken shortly after this ashram was inaugurated on August 7, 1977.
Rainmaker 1985 Shivabalayogi meditates at the Thippagondana Halli reservoir which, at that time, was the only source of water for Bangalore City. Swamiji brought rain, breaking a severe drought.
Bangalore Ashram, August Function, 1993 A collection of several edited programs of video taken on or around the celebrations of the 32nd anniversary of Shivabalayogi's completion of tapas. Video taken at the Bangalore ashram in J.P. Nagar in August of 1993: (1) the four-acre site and typical daily activities; (2) evening bhajans and Shivabalayogi darshan. Video of the function itself: (3) morning darshan, (4) the homa (yagna, fire sacrifice), and (e) abhishekam (ritual bathing) of the gods in the Brahma Vishnu Maheshwara temple and of Swamiji himself. (5) Video of bhajans and annadanam (mass feeding) the following night, Sunday, August 8, 1993.
Cooking Pullao 1994 Shri Swamiji cooking pullao for the devotees. Recorded in his rooms at the Bangalore ashram in 1994.
South India
Madras 1965 & 1970 Madras (since renamed Chennai) was the scene of many meditation and bhajan programs during the early years of Shivabalayogi's travels in India. An 8mm film is the source of the 1965 video and the three 1970 videos are taken from a 16mm film.
Anantapur 1982 Two videos taken in October of 1982 on the occasion when Shivabalayogi gave life to a Shivalinga and other deities in the temple at the Anantapur ashram.
Kakinada Sea Bath Video recorded in 1982 shows Swamiji with devotees in the ocean near Kakinada, on the Bay of Bengal.
Picnic at Cauvery River Video recorded in 1992 during a three-day excursion that Swamiji had organized after the August 7, tapas anniversary function that year. Three busloads of devotees accompanied Swamiji and bathed in the Cauvery River at Sangam, Sri Ranga Pattana, and its source at Talakaveri.
North India
Sambhar Lake 1965 & 1986 Sambhar Lake in Rajastan is the site of Shivabalayogi's first ashram in North India. One video is from 8mm film taken in the mid-1960's and the other is from video tape taken in 1986.
Dehradun 1986 Three programs are taken from video tape recorded in 1986 at the Shivabalayogi ashram in Dehradun.
Swamiji Bathing in the Ganges at Haridwar Video recorded at Haridwar in 1986 shows Swamiji bathing with devotees in the Ganges River.
Harihar 1984 Harihar, in the north of the state of Karnataka, is the scene of two videos recorded during Shivabalayogi's visit in 1984, including a procession through the town streets.
Agra 1986 Scenes from kirtan (bhajans) and arthi recorded over three nights of programs at the Bhadawar House in Agra, April 13-15, 1986.
Jhansi & Farrukhabad 1986 Video recorded in 1986 during programs at Farrukhabad and Jhansi in North India.
Badrinath 1986 Shivabalayogi takes devotees to Badrinath in the Himalayas where they enjoy throwing snowballs.
Italy
Italishwara 1989 Two excerpts from video recorded near Venice, Italy, in 1989. Shivabalayogi was invited there to consecrate a Shiva linga which he named Italishwara, Lord of Italy.
For a little background on Shivabalayogi videos, see About Shivabalayogi Online Videos.