HIS LIFE HOME PAGE | PREVIOUS PAGE | NEXT PAGE
Above: Some of the few thatched roof huts remaining in Adivarapupeta in 1994. In 1935, Sathyaraju's family lived in half of such a hut. He was born in the kitchen area, which, screened off with a curtain, afforded the only privacy in the otherwise open, one-room home.
Below: Weavers at work in Adivarapupeta. Photo in the middle taken in 1963; the other two in the 1990's.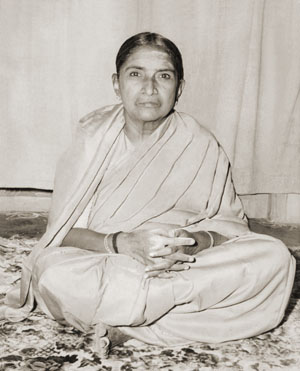 Birth
Shivabalayogi was born at 2:45 P.M. on January 24, 1935, in the small village of Adivarapupeta. His parents named him Sathyaraju.
His father, Bheemana Allaka, knew some astrology and from Sathyaraju's birth chart, predicted that when his son would be about two years of age, either his father would die and the boy would become a great man, or the boy would die. Bheemana died when Sathyaraju was two, and Sathyaraju became Shivabalayogi.
Adivarapupeta is located in the rice paddies of the Godavari River delta, about a kilometer from Draksharama. Sathyaraju's father, like most of its residents, belonged to the Devanga community and worked as a weaver.
Poverty
After Bheemana died, what was already difficult became severe hardship. His mother Parvatamma and grandfather Goli Sathyam struggled to feed and raise the boy. His family was among the poorest of the village. Sathyaraju began learning how to weave cloth at age five. At age twelve, he dropped out of school to support his family. He earned money weaving and selling soft drinks and country cigarettes.
Honesty
His grandfather, Goli Sathyam, was a principled man who taught Sathyaraju to maintain his self respect and never compromise his honor. Sathyaraju grew up learning to be fearless.
He recognized dishonesty and injustice by village leaders, teachers, pretentious priests and self-proclaimed holy men, and he had the courage and honesty to expose them. He was also mischievous and enjoyed practical jokes.
Popular among classmates and elders, he also angered many in the village. The villagers gave him the English nickname, "Against."
A Naughty Boy
Years later, after he became recognized as one of India's greatest yogis of modern times, he often described himself as having been a "naughty" boy. He explained that the qualities he had and learned as a child — courage, honesty and perseverance — are what allowed him to undertake and complete an unusually difficult and severe twelve years of meditation.
"God chose Swamiji even though he was very naughty. Swamiji cared only about the truth. Even today he is like that."