HIS LIFE HOME PAGE | PREVIOUS PAGE | NEXT PAGE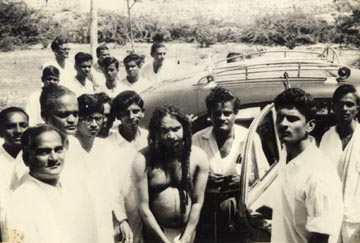 A Unique Traveler
In many ways, Shivabalayogi lived his life within the tradition of the rishis, the yogis of ancient times. His tapas was arduous. He taught in silence. His dress was simple, usually wearing only a kaupinam loincloth. He let his beard grow and his hair was matted.
In other ways, Shivabalayogi was quite unique. His extensive travels were certainly unusual. Even yogis of recent times typically preferred to remain out of the public eye, often in ashrams remote or secluded. If you wanted to see the master, you had to do the traveling.
Travel in India
Shivabalayogi traveled extensively throughout India for three decades and visited Sri Lanka several times. He traveled by car through countryside known to be infested with criminal bands known as dacoits. He often told stories about encounters with dacoits who intended to rob his group but instead became awed by his divine presence. Some of those automobile drives were very long and tiresome and Indian roads take a severe toll on both car and occupants. Twice he was involved in serious automobile accidents, but each time, miraculously, no one was seriously hurt.
In the first eighteen years after his tapas Swamiji undertook seven all-India tours. Ashrams were dedicated to Swamiji's mission all over India, including Adivarapupeta, Dodballapur, Bannerghatta Road and JP Nagar in Bangalore, Sambhar Lake in Rajastan, Dehradun, Anantapur, Hyderabad, Hindupur, Venkatapuram, Guntur, and Agra.
Sometimes devotees provided him with the luxury of traveling by airplane — coach, often by himself. He looked quite odd, a yogi with long jatas (matted hair) and almost naked, clutching a towel and an envelope with his ticket inside, and wearing socks and shoes. The airline people objected to his dress and he would argue with them. With time, he accommodated their sensitivities and started wearing a shawl.
His Work
He traveled on the invitation of local devotees who arranged for public meditation programs. All were welcome to receive his darshan. Countless people were blessed through his darshan and many thousands were healed of their mental and physical ailments by Swamiji's grace.