ABOUT Spiritual Ministration │ PRINTER FRIENDLY PDF
NEXT CHAPTER
Sri Sri Sri Shivabalayogi Maharaj
Life & Spiritual Ministration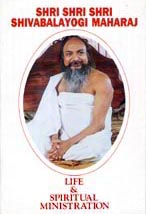 Cover Preface
3 Tapas of the Four Directions
Download printer-friendly PDF of Spiritual Ministrations
Spiritual Ministration is now published as an
E-BOOK
through Handloom Publishing at Lulu.com
Title:
SRI SRI SRI
SHIVABALAYOGI MAHARAJ
Life & Spiritual Ministration
Author:
Lt. Gen. Hanut Singh
Publishers:
Sri Sri Sri Shivabalayogi Maharaj Trust
1A, III Phase, J.P. Nagar, Bangalore-560 078.
This book is designed by
NELSON ADVERTISING PRIVATE LIMITED
No. 30, Shrungar Shopping Centre, 80, M.G. Road
Bangalore-560 001, Tel: 573894
for Sri Sri Sri Shivabalayogi Maharaj Trust.
Printed at: Sri Jayalakshmi Power Press
No. K-6, Siddegowda Street, Doddamavalli
Bangalore-560 004 by K.M. Babu Rao
Photos:
N. K. Dasappa and Ashram sources
Originally published January 24, 1981 (Bangalore)
on the occasion of the 46th birthday of Sri Sri Sri Shivabalayogi Maharaj.
Reprinted 1989 (Bangalore) & 2008 (Dehradun).
PREFACE
The genesis of this book lies in my own doubts and misgivings about the spiritual path. In order to resolve these doubts, I submitted a number of questions to my Guru Dev, Sri Sri Shivabalayogi Maharaj, and noted down his answers to these questions. Though these questions and answers had been compiled for my own use and reference, it occurred to me that other devotees may have similar doubts and hence it might prove useful to print these in pamphlet form for dissemination to a wider public. At the same time I felt that if a short biographical sketch of Sri Swamiji could also be added to these teachings, it would make the proposed pamphlet more attractive and readable. I submitted this proposal to Sri Swamiji who gave his blessings to the project and also very kindly agreed to answer further questions pertaining to his life and, more specifically, to the period of his Tapas.
Thus began the second session of questions and answers. As the material pertaining to Sri Swamiji's life and teachings steadily grew in volume, I soon realised that a simple pamphlet would not do adequate justice to this subject and hence grew the idea of compiling all of this in a full length booklet. Once again I mooted this proposal to Sri Swamiji; he bestowed his blessings and by his Grace, what had been originally conceived as a pamphlet, is now seeing the light of the day as a small book, setting out his life and teachings.
I have no pretentions to being writer, nor this book is a biography in the sense that this term implies. No doubt, at the appropriate time, a qualified writer will come forward to write a fully researched authentic and eminently readable biography of Sri Swamiji. However, till that happens, it is hoped that this book will serve to fill in the gap.
The life of a Saint is a life essentially of the Spirit; very little of it is discernible because very little of it flows on the surface. And this life of the Spirit cannot be generally known because Mahatmas rarely, if ever, talk about it; only stray glimpses can be caught from the casual utterances of these Divine Personages. Sri Swamiji, on the other hand, has been much more forthcoming than most other Mahatmas in giving an account of his personal experience during the 12 long years of Tapas period. Therefore, the chief value of this book lies in the fact that it contains an authentic and reasonably detailed account of the Tapas of a great Mahatma. That apart, it contains some valuable practical guidance for Dhyana Yoga Sadhana, as taught by Sri Swamiji. For both these reasons, this book should prove interesting and useful reading for all classes of spiritual aspirants, and more particularly, to devotees of Sri Swamiji.
In writing this book, I have freely used Hindi and Sanskrit words in the text. This is because Sanskrit religious terminology does not easily lend itself to translation, and rarely has equivalent English words. These Hindi and Sanskrit words have been explained in the text, and a glossary has also been added at the end of the book for easy reference by the reader. Since the intention is to help the reader in his understanding of the book the meaning given is not necessarily an exact dictionary definition but rather an idea of the sense or implied meaning of the word in the context in which it has been used.
Author
ABOUT Spiritual Ministration │ TOP OF THIS CHAPTER │ NEXT CHAPTER