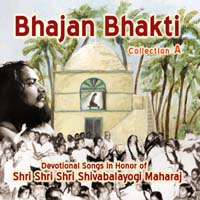 Bhajan Bhakti
A collection of three CD's of studio-recorded songs of devotion to God, sung in honor of Shivabalayogi in the style that he encouraged and taught devotees in India and the United States. Each CD serves as a kirtan.
The fourth CD in "Bhajan Bhakti" includes devotional chants and Swamiji's own voice chanting aum namah shivaya namaha.
Executive Producer: Shri Shri Shri Shivabalayogi Maharaj.
Working Producer: Shari Sue James.
Bhajan Group: D. Jagadish Kumar, Iswari Grace, Tom Palotas, Shari Sue James, Jean Wright, Patrick Baker, Menakshi Tambre, Shariro Radhe Kaufman, Karen Morell, Donnelle Burton, Angie Baker, LeeAnn Rayfuse, Liz Cook. Lauren Burrei on tamboura.
Recorded & Mixed at Blue Ewe Studios on Whidbey Island by David Malony.
Cosmic Engineers: Wes Wait, Karen Morell & Rajguru Tambre. Mascots: Jasmine & Turtle.
Cover Painting: The Dhyana Mandir in Adivarapupeta, by Shari Sue James.

Printer friendly words to the bhajans and chants in the BHAJAN BHAKTI collections
Collection A

opening chant

mahaganapate

shiva yogideva ravela

godavari tera shivabalayogi

shivaya parameshwaraya

jaya shiva shankara

gangajatadhara

nataraja

murali krishna

jaya durga devi sharanam

jaya bhagavati devi

Shivabalayogi arthi

asato ma

Collection B

opening chant

parvati thanaya

shivayogi sharanam

sri balayogisha

shivaya namah shiva lingaya

namah shivaya

shambho hara hara shambho

hari narayana

jai ambe jagadambe

mangala maye durge bhagavati

Shivabalayogi arthi

asato ma

Collection C

opening chant

vinayaka

gajanana he shubanana

jaya gurudeva shivabalayogi

shankara shankara

dhimita dhimi

naagaya naagappa

vittala

nallani vada

kali maheshwari

chaumundaye / amma taye

Adivarapupeta arthi

asato ma
Collection D Puja
Shiva Panchaaksharee Sthothram
Shivabalayogi chants Om Namah Shivaya
Shivabalayogi's 108 Names