ARCHIVES | BHAJANS | INVITATIONS | VIDEO | PHOTOGRAPHS
BOOKSTORE | Divine Play | Swamiji's Treasure | Tapas Shakti | Yoga Vasistha
Divine Play, the Silent Teaching of Shivabalayogi, was written by Tom Palotas, but the origins of the book, Swamiji's encouragement for it, and things Swamiji said and did suggest that this is more Swamiji's book than that of any literary author.
Shivabalayogi gave no teaching other than to urge people to meditate and know the truth for themselves. Shri Swamiji wrote no book. Yet he encouraged this book to be published, as he encouraged me to write its predecessor, Tapas Shakti, which Shri Swamiji had published in India in 1991, three years before his mahasamadhi.
I refer to Tapas Shakti and Divine Play as the books "I" wrote with considerable hesitation. On several occasions when I was at the Bangalore ashram in late 1990 finishing what became Tapas Shakti, and in the following year when Swamiji was in the United States, I referred to Tapas Shakti as "my book" or something "I wrote." Swamiji invariably corrected me: "What makes you think it's your book?"
In the conventional sense, I am the author, and I must take responsibility for any mistakes. But in the story of how Tapas Shakti and Divine Play came to be, there is much to suggest additional influences.
Source Materials for Divine Play
Divine Play is drawn from several sources: Telugu and English booklets published during the early years after Swamiji emerged God-realized on August 7, 1961; Shri Shri Shri Shivabalayogi Maharaj, Life and Spiritual Ministration written by General Hanut Singh and published in 1981; Swamiji's own collection of papers; conversations with Shri Swamiji, many tape-recorded between 1988 and 1994; and over a hundred devotees' personal experiences collected throughout India, the United States, and England.
The first biography of Shivabalayogi was written in Swamiji's native language of Telugu by several people from the area around his village of Adivarapupeta, devotees close to the events of his youth and tapas. This booklet was translated into English by Professor S. K. Ramachandra Rao and published in 1968. [You can read the complete book, Sri Shivabalayogi (1968)] Even earlier, shortly after Swamiji moved to Bangalore in 1963, Rumale Chennabasaiah wrote and published a short English booklet on Swamiji. Drafts of Rumale's writings were among the papers Swamiji made available to me in 1994. The recorded details of events around Swamiji's life indicate the first-hand authenticity of these early accounts, details which were confirmed during my 1996 interviews of eyewitnesses.
Lieutenant General Hanut Singh came to Swamiji in Dehradun, asked Shri Swamiji questions about the spiritual path, and wrote down the answers. He realized the material might benefit other devotees, so he obtained Swamiji's blessings to publish the teachings. What began as a pamphlet expanded into a small book that was published on the occasion of Swamiji's forty-sixth birthday, January 24, 1981, under the title, Shri Shri Shri Shivabalayogi Maharaj, Life and Spiritual Ministration. [You can read the complete book, Spiritual Ministration] General Hanut incorporated material from Professor Rao's booklet and obtained additional information about Shri Swamiji's tapas directly from the great yogi himself. Spiritual Ministration further develops the earlier booklets' descriptions of the four principal ways through which Shivabalayogi gives blessings: darshan, vibhuti, bhajans and bhava samadhi, and initiation into meditation. Swamiji brought copies of Spiritual Ministrations with him when he first visited the West.
Tapas Shakti
My own experience with Shri Swamiji dates from the second night of his first visit to the United States in 1988.
I became a regular attending every program I could. It became the custom that after the evening meditation and bhajan programs, Swamiji would sit in the living room of the house where he was staying and answer devotees' questions on such subjects as Jesus, meditation, world conditions, spiritual leaders, and many others. Like General Hanut, I found myself fascinated by Swamiji's responses and I would write notes after each evening's darshan.
Swamiji was saying things that were controversial but we knew were true. He said that devotees alter the history of yogis in order to start religions. He displayed anger and sorrow when he told us that many yogis had been murdered, and that religions separate and divide people from each other. He would say that after he was gone, we too would make up stories about him.
In 1994, only two weeks before his mahasamadhi, I asked Swamiji if devotees really killed yogis, or whether it was more a matter of mistakes and ignorance. He said that yogis really are intentionally killed. Then Swamiji made D. Jagadish Kumar, his interpreter during the 1990 and 1991 western tours, describe what had happened when Swamiji was hospitalized in 1991. It was a story about devotees more concerned about what would happen to ashrams and property after Swamiji was gone than taking care of Swamiji's physical health. After the detailed account, Swamiji summarized,
"Devotees come close to the guru and get guru bhava. But some want to become like the guru, so they plan to get rid of the guru. Understand now?"
One way or the other, we push the real guru to the side.
Each time Swamiji would say such things, something inside me hoped that perhaps this time could be different and we could preserve an accurate record of Shivabalayogi. At first I kept notes of what he said to myself. A couple of years after I first met Swamiji, I asked whether we could repeat in public what he said during such darshan conversations. He said that everything he said openly was meant to be public. I asked for permission to tape record those conversations, which Swamiji graciously granted.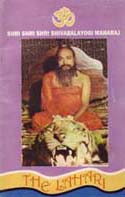 A complete PDF copy of The Lahari can be downloaded HERE. This is an 8MB file that may take several minutes to download.
I began to collect more and more material. I was especially encouraged by a booklet of questions and answers prepared by Swamiji's London devotees called The Lahari, published by Prof. P. N. Murthy on the occasion of Swamiji's fifty-fourth birthday on January 24 of 1989. The next time Swamiji arrived in Seattle, he cut off devotees' questions and instead made us read out loud from this booklet while he sat and smiled. It was as if he was demonstrating that the written words could answer our questions, or perhaps have the same impact as the spoken.
Each time I asked Swamiji for his blessings to collect the conversation material in a book, he responded by saying it would be good if I collected devotees' experiences. So, I was a little apprehensive as I continued to edit only question and answer material with the idea of getting it printed in the United States. Some devotees I knew from Portland were traveling to India to visit Swamiji in late 1990, so I asked them to deliver a draft manuscript entitled Darshan to Swamiji for his blessing. I heard nothing until Swamiji's next United States tour. The entire draft manuscript, complete with notes to myself, had been published in Bangalore in time for Swamiji's departure for the United States in 1991. I only found out when Swamiji presented me with several copies in Portland.
One afternoon in Seattle a week or so later, Swamiji raised the subject of a new book. He asked me what would I think if the existing biography in Spiritual Ministration were combined with the Darshan question and answer material. Fine, I responded. Swamiji said that if I were to do that, he would arrange to get it printed in India. I did not need to be asked a second time.
Swamiji told me several times that the book should consist of three sections: his biography, darshan conversations, and devotees' experiences. I hurriedly collected experiences from devotees in the United States, worked in additional question and answer material, incorporated what General Hanut had collected and written in Spiritual Ministration, and the result was Tapas Shakti. It was printed in Bangalore and Swamiji presented it to the public on his fifty-seventh birthday, January 24, 1992.
I was hoping that Tapas Shakti could be made available in the West inexpensively. Swamiji had different ideas. He insisted that the book could be sold for no less than sixteen dollars. Several American devotees complained that the price was too much for a book that was poorly printed by western standards. Swamiji would not budge and for a few days after the book's public presentation, my ego was disappointed. Finally I had a rubber stamp made so each copy in the U.S. could bear a legend something like, "Not to be sold for less than $16." I had the stamp with me when I saw Swamiji sitting in the ashram garden one afternoon. I took out the stamp, inked it, and stamped some paper to show Swamiji. He smiled, took the stamp, stamped his forearm, and showed me his arm saying, "Cost too much?"
After Tapas Shakti was published, Swamiji described it as a spiritual textbook, like the Bible or the ancient Vedas, scriptures that contained the discussions between ancient sages and their devotees. There were times when instead of answering devotees' questions, he asked them to read the book instead.
Divine Play, the Silent Teaching of Shivabalayogi
Divine Play, the Silent Teaching of Shivabalayogi is an opportunity to go back to the original sources, incorporate additional conversations with Swamiji and information from eyewitnesses, complete the story of Swamiji's public mission and mahasamadhi, and include a wider range of experiences in order to provide a comprehensive and integrated book on Shivabalayogi. It was an idea that I discussed with Swamiji before the mahasamadhi and one that he encouraged. For example, during my 1993 visit to the Bangalore ashram, Swamiji told me that he would drag me with him to all his ashrams around India. His words came true in 1996 when I spent five months traveling in India to interview devotees in each of Swamiji's ashrams in India.
Immediately after Tapas Shakti was published, I continued to collect transcripts and notes of conversations. R. Nelson, who had designed and typeset Tapas Shakti, was writing and publishing a newsletter in India for Swamiji called The Inner Eye. In early 1994 Swamiji asked him to organize question and answer sessions with devotees in Bangalore so the recorded material could be published and distributed in the newsletter.
Both Nelson and I were keen on collecting and preserving as much as possible, and we had trouble finding early photographs of Swamiji. We got Swamiji's permission to take down the large tapas photographs that hung on the walls of the large meditation hall so we could clean them and make professional copies of what we thought were the only available early photos of Swamiji. We had no idea there were other resources.
In 1994, I again traveled to India to spend a four-month sabbatical from my law practice with Swamiji. I was staying at the Bangalore ashram where devotees sang bhajans and Swamiji gave darshan every night in the large meditation hall. One night a devotee told me that Swamiji had something he wanted to show me. By that time, Swamiji had moved to the east side of the hall, above the entrance. That night after darshan, Swamiji went to his old rooms, on the west side behind his dais. I was asked to join him in the darshan room.
I passed through the doorway behind the dais, down the short corridor, and past the curtain and doorway to his old rooms. Swamiji was sitting on a mattress on the floor, the way he usually did in a more relaxed setting. With him were several devotees, including Nelson, and stacked in heaps against the wall was Swamiji's collection of papers, photo albums, video tapes, and movie films.
He had kept them under lock and key for so many years that the devotees had almost forgotten that they existed. There were thousands of photographs of Swamiji, a couple of dozen films, scores of video tapes, piles of papers with devotees' notes and letters, and various early drafts of Swamiji's biography. Had Swamiji not locked them in cabinets, they would not have been preserved. Nelson and I could tell how important photographs used in pamphlets and early books had been removed from the albums and never replaced. Had they not been put away, irreplaceable films and video tapes would have been ruined from over use on poor equipment in dusty conditions. Swamiji was making them available to Nelson and me so they could be published and distributed for the devotees.
The rest of my Bangalore stay, I catalogued the material in that old darshan room. One day while I was doing this work, I was called to Swamiji's room. He had found some additional papers for me. I told him how precious the materials were, but he replied that it was the devotees' experiences that were his jewels. Swamiji told me they were his treasure, more valuable than anything he said. He encouraged me to continue collecting material, and he was supportive of my idea to write a more comprehensive biography. He always encouraged me to include experiences, and they are woven throughout Divine Play with the history of his life and his answers to devotees' questions.

Read more:
Stories and a Writer's Editorials on Shri Shri Shri Shivabalayogi Maharaj and His Soul Connections with Devotees at
Shivabalayogi Writer's Corner
I collected additional details on Shri Swamiji's life, previously unpublished, and numerous experiences from devotees in the United States and England, and during my eight visits to India from 1991 to 2000. In 1996, Jagadish and I spent five months traveling around India interviewing over a hundred devotees and eyewitnesses. Divine Play owes greatly to scores of Swamiji's devotees in Adivarapupeta and surrounding villages and towns, Kakinada, Rajamundry, Dodballapur, Bangalore, Hindupur (Muddireddipalli), Venkatapuram, Anantapur, Tadpatri, Hyderabad, Guntur, Jaipur, Sambhar Lake, Delhi, Jhansi, Agra, Farrukhabad, Dehradun, Ratnagiri and Sriharikota.
What Shivabalayogi really communicates cannot be contained in words. That is the meaning of silent teaching — a yogi gives experiences and imparts direct understanding. However, Shri Swamiji does use words and images as a medium to convey his silent love and blessings. That is the purpose of Divine Play.
Swamiji's blessings.
Tom Palotas, Whidbey Island
December, 2004