Swamiji's Agenda
PRINTER FRIENDLY PDF
NEXT PAGE
Swamiji's Agenda

by Prof. P. N. Murthy
Prof. P.N. Murthy graduated in Mechanical Engineering from Annamalai University in 1949 and later pursued aeronautical engineering in Indian Institute of Science and University of Illinois, Urbana, USA. He obtained Ph.D. in Aeronautics and Astronautics at University of Illinois in 1962. He taught Aeronautical Engineering in IISC Bangalore and IIT Kanpur. He was the head of the department of Aeronautical Engineering in IIT Kanpur during its formative years, and is one of the founders and is a former Director of the Engineering Staff College of India in Hyderabad.
He participated in the progressive literature movement and authored several short stories, novels, philosophical essays and one act plays in Telugu.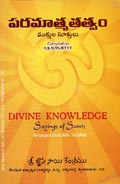 Prof. Murthy wrote a book on Shivabalayogi in Telugu, and compiled Divine Knowledge Sayings of Saints in both English and Telugu.
Because of his knowledge of Telugu, English, and Sanskrit, Prof. Murthy was encouraged by Shivabalayogi to prepare an English translation of Sage Valmiki's Yoga Vasishta from the Sanskrit-Telugu version that Swamiji had read, and Book VI of Murthy's translation has been published.
Prof. Murthy originally wrote Swamiji's Agenda in 1984, supplementing it with material until 1994. It has not been published, at least in this form.