Spiritual Science, the Path to Bliss
PRINTER FRIENDLY PDF
NEXT PAGE
Spiritual Science
The Path to Bliss
by B. S. Lamba
PAGE 1 — Life Story of Shivabalayogi
PAGE 2 — Lamba meets Shivabalayogi
PAGE 3 — Lamba's Experiences
PAGE 4 — Experiences of Bhava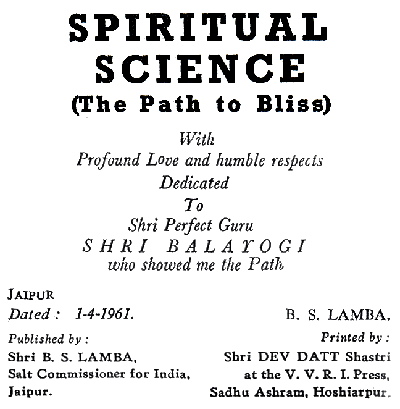 Bhag Singh Lamba first met Shivabalayogi in August of 1957, an experience he writes about in his book dedicated to Swamiji, Spiritual Science, the Path to Bliss, written and published in 1961, before Shivabalayogi completed his twelve-year tapas.
Lamba was raised in a devout Sikh family in Punjab, never missing his morning prayers. He graduated as a geologist from the Dhanbad School of Mines and worked for an oil company for eight years before taking a post in the government salt monopoly. When he first met Shivabalayogi, he was the Deputy Salt Commissioner in the Madras Region and it was during his inspection of the Kakinada salt factories that he heard about the Adivarapupeta Balayogi, Shivabalayogi.
Later Lamba was posted to Jaipur from where he supervised the extensive salt lake operations at Sambhar Lake. It was through Lamba that K.L. Ghai, who established the Shivabalayogi ashram in Sambhar Lake, came to Swamiji.
Some time after Shivabalayogi completed tapas, when Lamba was the President of the Adivarapupeta ashram committee, Lamba informed Swamiji that he had acquired a suitable site for an ashram at Dehradun in North India and that he wanted to donate it. He asked Swamiji to plan a short visit, describing the place as a secluded spot where Swamiji could get some peace and quiet.
Eventually, in 1965, Swamiji returned to Adivarapupeta for the Mahashivaratri celebration and from there he left for Dehradun. Swamiji traveled via Vijayawada, Bombay and Delhi, reaching Dehradun in May of 1966. There he stayed at Lamba'a garden cottage in Mokampur, on the Dehradun to Haridwar Road.
It was through this visit that Swamiji's second mother, Mataji, came to Shivabalayogi and it was she and her husband, R. N. Singh Deo, who donated the Dehradun ashram.
Although Lamba was not involved in Shivabalayogi's work after 1966, it was through Lamba that Shivabalayogi made the connections so that the Sambhar Lake and Dehradun ashrams were established.

Much of Spiritual Science is a summary and explanation of spiritual teachings from various sources, including Aurobindo, Annie Besant, Charles Leadbeater, and Vivekananda, tempered with Lamba's own experiences as a devout Sikh. What is quoted in the following pages is what he wrote about Shivabalayogi and Lamba's own experiences.